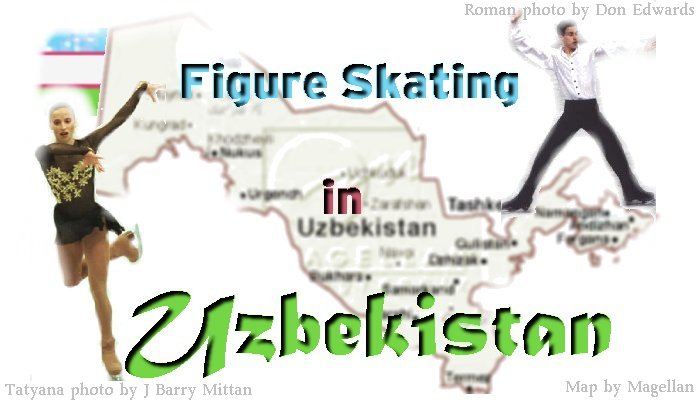 Contents

Site Updates
Tribute to Igor Ksenofontov
Skaters
Judges
Results
Marks/Jumps
Photos
Support Buttons
Message Board
Monthly Polls
Contact the Skaters
Win my Award
Awards
Links
Webrings
Information on Uzbekistan
Thanks
Sign the guestbook
View the guestbook


.


Roman Skornyakov, men

Date of Birth - February 17, 1976
Place of Birth - Pervouralsk, Russia
Home Town - Tashkent, Uzbekistan
Countries represented - Russia (until 1995), Uzbekistan
Height - 176 cm
Past Coach - Igor Ksenofontov
Current Coach - Roman Skorynakov and Tatyana Malinina
Training centers - He used to train in Tashkent and Yekaterinburg, but he now trains in Dale City, Virginia at SkateNation.
Club he represents - Alpomish Skating Club
Wife - Tatyana Malinina

Results

1995 Russian Nationals - 16th
1997 Asian Games - 7th
1997 World Championships - 20th
1997 Skate Israel - 5th
1997 Golden Spin of Zagred - 6th
1997 NHK Trophy - 12th
1998 Asian Games - 2nd
1998 Winter Olympics - 19th
1998 World Championships - 14th
1998 Trophee Lalique - 7th
1998 NHK Trophy - 8th
1998 Skate Israel - 9th
1999 Four Continents Championships - 9th
1999 World Championships - 21st
1999 NHK Trophy - 4th
2000 Four Continents Championships - 7th
Last updated on March 1st, 2000.

All graphics created by Jayne
All information on the pages has been written by Jayne. Feel free to email me if you have any comments, questions or information. The opinions expressed on this page are solely those of the webmaster.Please do not use any of the graphics or written material from this page without permission of the webmaster. Copyright 2000. Online since March 2000.